Now we know why David Soul was never in Fiddler on the Roof.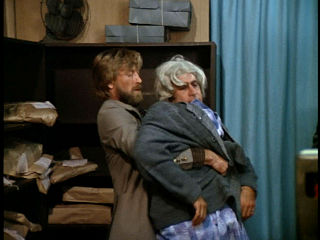 Are those handcuffs in your bra, or are you just happy to see me?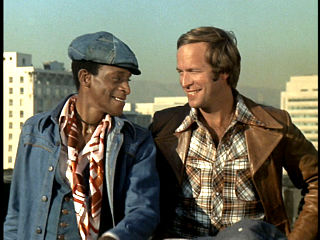 Is that love or cracker-cide we see in Huggy's eyes?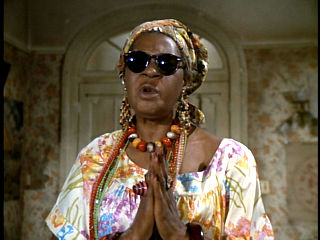 Lord, I was wrong to think Sanford & Son was the lowest we could go.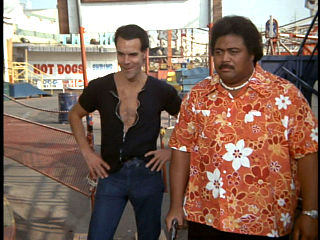 Upside? Interracial couple! Downside? Must. Burn. Slash. Goggles.
The Plot Sickens
Now, all three *cough* plots converge, as we learn that Walter T, along with Sugar and Milo, have stolen $300,000 from the Watsons. Bad Dad's oxygen mask has a sort of
Blue Velvet
creepiness, somewhat undermined by his fresh fruit basket, and his son's resemblance in looks and sycophancy to
Mr. Smithers
makes their whole relationship rather disturbing. So, if you're keeping count, Walter T's wife, his former partners in crime, and a crime family all want Huggy Bear and his Turkey to track down the Black Bugs Bunny. However, displaying their first sign of common sense so far, the Bear and Turkey decide it is definitely not rabbit season, and high tail it back to their office, planning on skipping town.
Finally, we get to meet one of Huggy's infamous cousins, Leotis. Turquet had sent Otis to get him a heater, which he did, but unfortunately it's not a gun but an actual water heater. Cue laugh track. However, the crime here is not that Otis was unfamiliar with 1940s pistol slang, but Turquet's "white man's burden" attitude towards him. As Turkey comforts Otis by reminding him that he's an idiot savant with numbers, the teetering on the edge of bankruptcy P.I. warns Otis not to aim for the lofty goal of private detectin' until he's taken a course in basic logic. In the background, we can just make out a University of Oklahoma diploma in the name of J.D. Turquet, but not the actual degree he earned. Safe to say, the University of Oklahoma isn't a charm school. EH meanwhile begins to write out a check to include with her apology letter to the Black Panthers.
Before Turquet can destroy anymore of Otis' self-esteem, Foxy, Walter T Baker's wife, returns with an overdue apology for not coming clean about the whole robbery thing. Unfortunately, she also dangles the carrot of Bad Dad Watson's offer of $30,000 for the recovery of the money, along with the dubious information that she knows where the Black Bugs Bunny is hiding with the loot. The Bear and Turkey's greed overcomes their prudence, and they decide to head off to the Old Abandoned Amusement Park (turn left at the Old Abandoned Zoo, and continue on just past the Old Abandoned Warehouse District). Before they can leave, however, Otis notices that two big bruisers (the ever popular Sugar and Milo) have staked out their office, and despite Turquet's scepticism, Huggy asks his cousin to arrange a distraction. What Otis lacks in subtlety, he makes up in effectiveness, as he throws a bus bench into Hawaiian Punch's car window, and a nameless extra nearly gets squashed by a clothing rack as the baddies spin out of control. Oh well, in Bay City, fashion rules and life is but an accessory.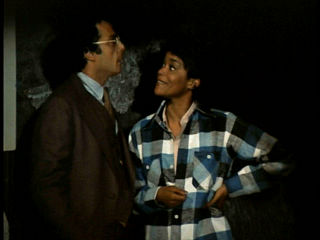 Foxy would have more luck, if he wasn't so obviously a virgin.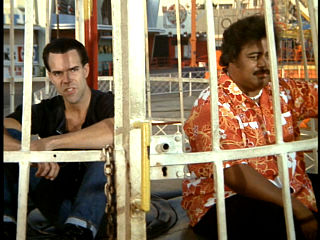 Poster children for equal opportunity employment in cage dancing?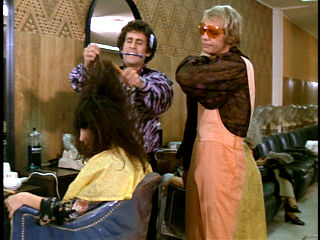 Starsky! You're supposed to tease the girl, not the hair!
Oh God, make the pain stop!
On their own, Huggy and Turquet finally remember Blind Bessie's advice to check out Doc Rafferty and his vaguely familiar dental assistant (did we see her in Debbie Does Dallas?), and they learn that Walter T never picked up his fake passport to Brazil. The reason why is soon apparent, as the Bear and Turkey discover the Black Bugs Bunny tied up in their office's closet. While the bad guy's logic for doing so remains mysterious, this plot hole is nowhere near as reprehensible as Walter T's most offensive portrayal of a black man since
the 19th century minstrel shows
. Foxy's husband has two modes: grinning inanely while drinking himself into a stupor and hysterically shrieking, "we're gonna die, die, die!" We could go on, but EH is on her way to the basement, muttering something about building a time machine and shooting Whitey from a water tower.
Though RC agrees with the sentiment, we are both distracted from our plans of retroactively joining the militant wing of the Black Panthers, by the reappearance of Otis in a form-fitting pistachio muscle shirt and skin tight, burnt sienna pants that show off all of his - oh my - considerable assets. We're also beginning to suspect he's the smartest guy there, as Huggy and Turquet are shocked when Walter T tells them that Foxy has set them up all to die, a fact he neglects to mention before Sonny's hitmen arrive. Furthermore, Otis saves their butts by telling them about the short cut over the rooftops, and his earlier mistake with the "heater" proves even more effective (and amusing) than a gun, when it's tossed down the stairs onto Sonny and his thugs.
Their escape is slowed by Mr. "Die, Die, Die" when he sees the steel I-beam they're expected to cross between tall buildings and utters his one truly, funny line: "I get dizzy when I put on platform shoes!" Sonny, after being raised by someone called "Bad Dad," has no such fears, and leads his gun-toting goons after them. They almost catch them too, until Huggy displays hitherto unsuspected and unused martial arts skills to disarm Sonny, and our 'heroes' take cover behind what we can only assume is bullet-proof glass. Meanwhile, the real heroes finally drive up, and use their real detective super powers to figure out that the Bear and Turkey are in a fight for their lives on top of a nearby building.
While the suspense of whether Starsky and Hutch will get there … oh, who are we kidding, while we wait for the detectives to arrive in the nick of time, Turquet whines that he could save them if only he had a gun. Once again, Cousin Otis proves Turquet's earlier condescension was unjustified, as he reveals a real 'heater' stuck in his sock. While the Bear threatens the bad guys that Turquet can "shoot the warts off a kosher pickle at 50 yards," the Turkey proves that he can both shoot underwear off a clothesline at 100 yards and ruin their advantage by shooting off his mouth about running out of bullets.
Fortunately - you guessed it - Starsky and Hutch arrive on the rooftop to save the day, the latter using a roll that Captain Kirk would envy. EH is convinced that they arrest Sonny only because they swore an oath to serve and protect everyone, especially after Huggy brags they didn't really need help. RC reminds her that they also wanted to arrest Sonny Watson anyway, and besides Starsky doesn't seem to be holding a grudge against them. After all, he practically hands them their next case after taking their statements down at the precinct. Although. . . his disappointment that Huggy and the Turkey couldn't stay for an after-case drink was rather unconvincing, especially with that smirk. Oh well, it all works out as a happy ending with the case closed, the pilot consigned to TV limbo, and hopefully, Otis getting to read Sonny Watson's book on self-esteem building and starting his own detective agency. Or modelling agency. His choice.